How To Surprise Your Loved One
Buying gifts for your loved one is an almost sure-hit romantic trick to make him/her fall to their knees. Similarly, launching a surprise move or act on your partner will give them immense pleasure as well. Like throwing an unexpected birthday party with a theme of his fantasy or hobby would surely go way down in his memory.
However, after a period of sneaking around preparing for this big moment, you might get a rude 'surprise' from your partner when you see the look of shock on their face when you shout "Surprise! Surprise!" You know well enough that that look wasn't one of excitement.
Before you begin to feel depressed that you have failed as a boyfriend/girlfriend/husband/wife terribly, take heart to know that you are, usually, not alone.
So how to surprise your loved one correctly so that they will receive it in exactly the intended form you planned for them – a sweet, nice, pleasant surprise?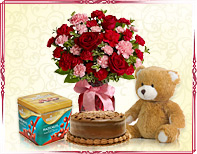 The key is this – knowing them well.
Yes, you have to know your partner extremely well in order to make the right guess what they are wishing for in their hearts. How to know them really well? Use these 3 tips:
1. Listen – they may have casually mentioned about that wish, that unfulfilled dream or simply that iPhone they have eyed so long and is aching to have one. Or, they may be telling friends about how excited they'll be if they can celebrate their wedding anniversary at Christmas Island. Get it?

2. Observe – pay close attention to your partner. Does his eyes light up when you mention F1? Does she clutch your hand tightly when she passes by the Korean popstar Rain?

3. Ask – when in doubt, always ask. Of course, you can practise lots of tact when asking so you won't let the cat out of the bag. But at least you are sure that you are on the right track.



Remember, pay attention to all the details, even down to the favourite colour for that particular item of your surprise. For example, she may love burning red roses but abhor blazing red pants. He may relish blue walls and shirts but squirm at blue suede shoes.
Lastly, if your surprise didn't turn out to be the real deal, take that as feedback and make it a better one next time! As for you, if your partner meant to give you a surprise but somewhere alone the line messed it up a little, remind yourself that it's the action, the love and the effort that truly counts.
I know, it can be a tad disappointing to see that you are not getting a white instead of blue because it is a telling sign on how much your partner actually knows you. Yes guys, ladies do use this as a way to gauge how much your love for them is, because by a woman's standard, if you love her very much, you will know her very well.
But to all of you disappointed recipients of surprises, please, brush this aside and tell your partners sweetly that you appreciate their efforts. You do, don't you? So focus on the thanks, and the rest will take care of itself.